Main content
Product family
---
---
Additional information on KLAPA
This could also be of interest to you:
Collapsible pallet box KLAPA (FLC)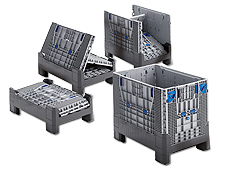 The KLAPA is a collapsible pallet box. Each sidewall of the KLAPA may be collapsed down completely with an easy to operate collapsing mechanism. Thus, when transported empty, space savings of 70% are possible.
Find your desired item using the filters!
---
---
Collapsible pallet box KLAPA (FLC) - 3 Products found