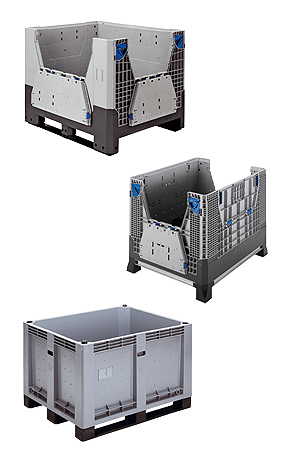 The pallet boxes made of plastic offer space for large volumes. With a storage space of up to 1150 litres, it is very easy with pallet boxes from Utz to accommodate even large and bulky transport goods. Walls especially designed with reinforced corner elements, pins or circumferential stacking bands guarantee a high degree of stability and security. In addition to the rigid large-volume container PALOXE, Utz also offers the collapsible pallet boxes KLAPA. Since all side walls can be collapsed over it is possible to save up to 70% when transporting the empty containers.

Collapsible pallet box KLAPA
The KLAPA is a collapsible pallet box. Each sidewall of the KLAPA may be collapsed down completely with an easy to operate folding mechanism.

The PALOXE is a stackable pallet box on the basis of the pallet dimension 1200 x 1000 mm (ISO) and 1200 x 800 mm (Euro). It is available in many variants and may thus be adjusted to the respective application.