Main content
Product family
---
---
Additional information on vacuum formed component holders
Component Holders & Trays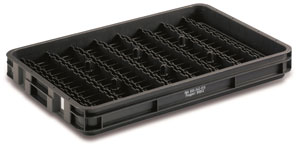 Vacuum forming is a manufacturing process which reforms thermoplastic synthetics. The resulting load carriers are called component holders. Component holders are able to perfectly incorporate products.

There are stackable and rotary stackable component holders consisting of frame tools or as intermediate layers. Examples of component holders manufactured according to individual customer specifications follow below.
Find your desired item using the filters!
---
---
---
Component Holders & Trays - 0 Products found